Intermediate Fingerstyle Freebie: We Three Kings
Trust me: it's not as hard as it looks. This free lesson and free tab takes the sting out of learning this beautiful fingerstyle solo. Aw c'mon, just try it!
Need to get up to speed on your fingerpicking chops?
I've got a complete step-by-step tutorial on
Acoustic Fingerpicking for Beginners at GuitarTricks.com.
We start with the very basics,
and move right up through James-Taylor-esque fancy moves.
Try it for FREE for 2 WEEKS through this exclusive link:
2-Week Free Trial, Full Access to GuitarTricks.com Video Guitar Lessons.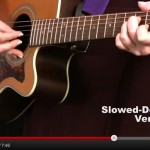 4 Comments
Leave a Response