10-Step Master Plan: HOW to PRACTICE GUITAR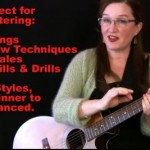 Hot off the press, Lisa's new video series, MASTERING the ART of PRACTICE, lays out a 10-Step plan for turbo-charging your guitar playing. Learn HOW to practice, for maximum results. Stop floundering! Practice correctly, and get better fast.
"This is one tutorial we recommend every guitar player watch. This is critical if you want to get good."- Jon Broderick, Founder/CEO of GuitarTricks.com.
Watch this video to learn all about this brand new tutorial,
and how you can try it out for free!
Get 14 Days of FREE Full Access to GuitarTricks,
Including Lisa's Entire Video Lesson Catalog! Limited Time Offer. Click Here Now.
Leave a Response