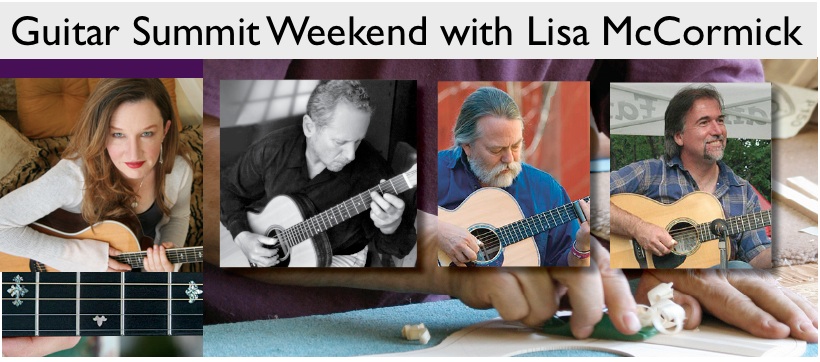 Guitar instructor Lisa McCormick welcomes you to her home town of Brattleboro, VT( Listed with The Best Small Towns in America) for a jam-packed weekend of total immersion in all-things-guitar.
The weekend kicks off with exclusive front row seating at a spectacular concert event on Friday night, featuring three of the nation's finest players, including Will Ackerman in a rare public appearance (founder of Windham Hill Records).
All three artists will "meet the maker" of their fine guitars, as luthier Michael Millard of Froggy Bottom Guitars ("the Stradivarius of custom guitars") joins them on the stage. Lisa McCormick moderates the evening.
Join Lisa and the artists for an exclusive VIP reception prior to the show.
Saturday kicks off with a private one-on-one guitar lesson with Lisa in her studio, followed by a tour of the Whetstone School of Lutherie to see fine hand-crafted guitars in the making.
A wine & cheese reception follows, with a private concert and guitar demonstration by Lisa for members of the group only. Dinner at one of downtown's fine bistros and a local pub crawl are encouraged!
Sunday continues with more private guitar lessons, and a group workshop with Lisa.
Don't miss this one-of-a-kind event!
Fri. Nov. 30 –  Sun. Dec. 2, 2012