FREE: $300 of Cool Guitar Stuff (Super-limited quantity!)
NEWS FLASH: just got an email from Neal over at Guitar Tricks this morning.
He's giving away a Guitar Fun Box stuffed with over $300 worth of great guitar stuff, for FREE, if you sign on for a year of GuitarTricks guitar lessons today.
(and don't forget the 2-month money-back guarantee – you still get to keep the FunBox either way!)
Included in this insane deal are 3 of my most popular courses:

Songbuilder's Toolbox

,

Guitar Intuition Ear-Training Program

, AND

Chord Theory Magic

. That's a huge bargain right there…
BUT LOOK WHAT ELSE NEAL'S PUTTING IN THE FREE FUN BOX: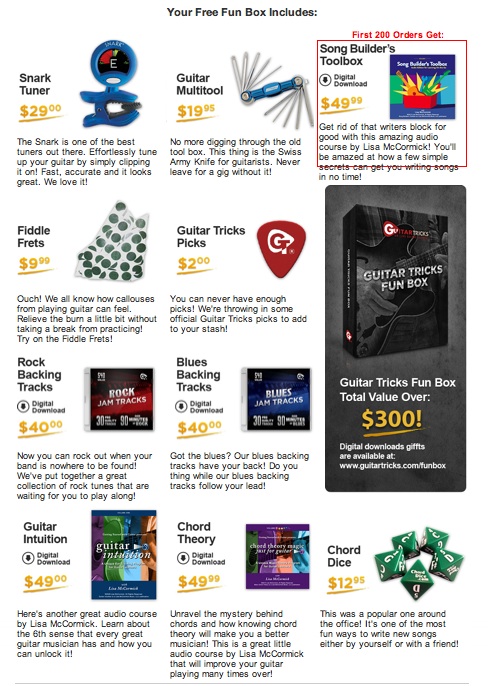 And it's all FREE with a membership to GuitarTricks. This is nuts.

Just do it.
AT LEAST take a look at the video, for crying out loud. (click to play)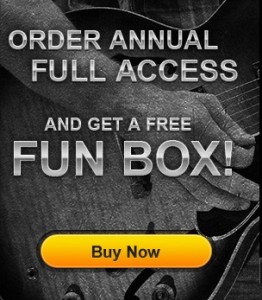 And because I'm so excited about this too, I'll toss in one more gift.
Just forward me your "welcome Letter" from Guitar Tricks, along with your postal address, and I'll send you one of my custom Lisa McCormick Pikcards in the mail, from my house to yours.
You'll love this thing! Keep it in you wallet and have picks with you at all times!
Remember, just forward me your Welcome Letter from Guitar Tricks (your Fun Box will already be on its way), along with your postal address, and I'll mail you a custom-designed Pikcard, as my gift.
Leave a Response