Choosing Your Child's First Guitar (report)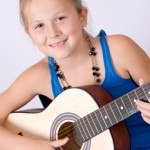 If you are thinking of getting your child his or her first guitar, how do you know if you're choosing the right one?
As a professional guitar instructor, I've taught many kids to play the guitar. Some have started as young as 4, while other beginners have gotten started while in the tweens and teens range.
Parents and teachers often have questions about how to make the right choice when buying their child's first guitar. I have collected the questions I have been asked the most, and created the following guide. For each question below, there is also link to a video you may watch for more information at the end of the article.
In this article, we'll cover these important questions:
Is my child ready for a real guitar?
What size should the guitar be?
Acoustic, or electric? Which is best to start with?
What price range should I be looking in?
What brands are best?
What if my kid is left-handed?
Is my child ready for a real guitar?
Some kids make it obvious: they love music, and they are genuinely interested in learning to play the guitar.
But for other kids, the guitar may be more of a toy or a prop for pretending to be a rock star. There's nothing wrong with this, but if you suspect your kid is not especially serious about actually buckling down and learning to make music, then you may wish to save your pennies and skip buying a real guitar for right now.
If your child shows genuine interest in music, then a real guitar is the way to go.
Even if they are very young, a real guitar, properly sized, will be capable of making sounds that they will be able to manipulate and learn from in a real way.
What size should the guitar be?
There are essentially 3 categories of guitar size, with some variation within each class. Basically, you want the player's right arm and shoulder to fit comfortably around the guitar, without causing shoulder strain. And you want the left hand to be able to reach to the end of the neck comfortably, so the child can easily make notes and chords.
To keep it simple, follow these guidelines:
For a small child, (ages 3 to 6) look for a 1/2 size guitar, or even a ukulele.
For a medium-sized kid (ages 7 to 12), look for a 3/4 size guitar.
And for a big kid (13 and up) or an adult, a full-size guitar is probably the best choice.
Acoustic, or electric: which is best to start with?
Opinions vary on whether beginners should start with an acoustic or an electric guitar.
My personal experience as a guitar instructor has convinced me that the best indicator of which kind of guitar to start with comes directly from the child.
Has he or she shown a strong interest in a particular style of music? Does he or she ask for a particular kind of guitar?
In my experience, the kids who are learning on the kind of guitar they are most personally excited about are the kids who are the most motivated to practice and to learn more.
If you opt for an electric guitar, I would suggest getting a starter package, which includes a small amp and cable. That way you don't have to worry about picking out the necessary accessories for your child to start playing.
If your child has not expressed a preference as to whether he or she would like an acoustic or electric guitar, a, I would suggest starting them on an acoustic guitar.
What price range should I be looking in? What brands are best?
You don't have to spend an arm and a leg on the first guitar. In fact, you really shouldn't spend an arm and a leg on the first guitar, in case it turns out to be only a passing interest.
That said, look for starter guitars that are real guitars, made by real guitar manufacturers. Avoid cheap guitars that have been cranked out by a generic factory someplace.
Why? If the guitar does not function well at a basic level, it will lead to frustration and discouragement on the part of the learner.
You should be able to get set up for a maximum of $200. In many cases you can do just fine for a lot less.
What if my kid is left-handed?
I recommend that all beginners learn on a standard guitar, whether the player is left-handed or right-handed.
When learning guitar, just like most any other musical instrument, both hands have plenty to learn how to do. Both hands will be developing strength, skills, and coordination. No significant advantage is achieved by using a lefty guitar. In fact, I believe it presents a disadvantage.
Learning on a standard (as opposed to a lefty) guitar insures your child will be able to access 95% of the guitars he or she comes across in life. Playing spontaneously at a friend's house or party, trying out the shiny new guitars in a guitar shop; these activities are open to those who play standard guitar.
Left-handed students who learn on left-handed guitars are dependent on finding these guitars, which are a rarity.
5-Part Video Tutorial: Choosing Your Child's First Guitar
Is My Child Ready for a Real Guitar?
What Size Guitar is Right for my Child?
Should my Child Start with an Acoustic, or Electric Guitar?
What Price Range Should I Be In? Which Brands Are Best?
What if my Child is Left-Handed?
I have compiled a page of specific guitar recommendations to help you get started in your search. You may see my guitar recommendations here.
written by Lisa McCormick, Getting Started With Guitar