Very First Guitar: Buyer's Guide
You're ready to get your child their first guitar, but how do you know if you're choosing the right one?
As a professional guitar instructor, I've taught many many kids to play the guitar. Some have started as young as 4, while other beginners have been in the tweens and teens range.
Parents and teachers can have lots of questions about how to make the right choice when buying a child's first guitar. This guide was designed to help.
For Specific Product Recommendations, read on!
CHOOSE THE RIGHT GUITAR FOR YOUR CHILD: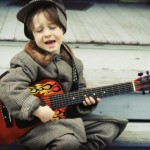 When buying a first guitar for a beginning player, you want to get the best quality guitar you can for the most affordable price.
You may find cheaper options out there, but the beginner risks facing a lot of frustration and discouragement if their guitar isn't basically functional. You buy a car made by a car manufacturer; buy a guitar that is made by a guitar-making company.
The instruments recommended on this page are low-price offerings made by reputable instrument manufacturers.
For the YOUNGEST PLAYERS (ages 3-6), we recommend either a ukulele (only four strings), or a half-size real guitar (not a toy guitar).
Here are Lisa's picks for the small-fry set:
UKULELES:

LITTLE GUITARS (1/2 size):

_____________________________________________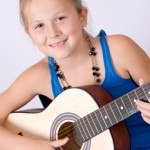 For MEDIUM SIZE KIDS (ages 7 -12), we recommend a 3/4 size guitar. 3/4 size guitars can also make excellent travel guitars for full-size folks.
Here are Lisa's picks for kids between the ages of 7 and 12:
MEDIUM SIZED GUITARS (3/4 size):

________________________________
EXTRA SPECIAL 3/4 size GUITARS
A little more money, a lot more quality. These are also best for adults wanting a travel/practice guitar.

Note: if Baby Taylors are out of stock at Amazon.com (because they are SO popular!), you may have better luck finding them here, through Musician's Friend.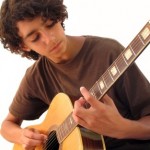 For BIG KIDS & GROWN UPS (ages 12 – 100), we recommend a full-size guitar.
Still, while officially "full-sized", there is considerable size-variety available in acoustic guitars. For more petite folks (like Lisa, at 5'1″), the Yamaha Fs720s shown below is a better fit. Beginners will face less frustration if their guitar is not too big for them.
Here are Lisa's picks for beginning players between the ages of 12 and 100:
FULL SIZE GUITARS: