Some Like it Physical
Sometimes you just want a real book made out of paper.
Or a real DVD, made out of real DVD stuff.
In a real DVD cover you can touch and read and open and close.
Besides, the Easiest Holiday Songs Ever for Guitar Songbook and DVD
are MUCH more "Giftable" this way!


Both are available on Amazon.com, with Amazon's awesome fast shipping options. Order today, while there are still plenty of practice days left before the holiday!
Get the SONGBOOK on Amazon.com
Get the DVD on Amazon.com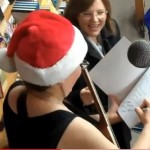 Leave a Response