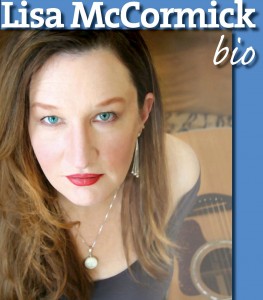 Lisa McCormick is a professional guitarist and guitar instructor, specializing in teaching adult beginners through intermediate players. Her reach as a principal instructor with industry-leader GuitarTricks Online Guitar Lessons has allowed her to teach hundreds of thousands of people worldwide how to play the guitar.
With a 30-year professional music career, and a degree in Adult Education, and Lisa brings ease, humor, and compassionate understanding to the journey of learning to play the guitar.
Also a singer/songwriter and recording artist, Lisa's live concerts and 5 CD's of original music have garnered a loyal following.
Lisa lives, plays, and teaches private lessons in the artsy historic New England town of Brattleboro, Vermont, USA.
_____________________________

Teaching the World to Play:
How Lisa McCormick Became One of the Web's Leading Guitar Instructors
By Wendy M. Levy/The Commons
BRATTLEBORO—Lisa McCormick's comprehensive beginning guitar course, Guitar Fundamentals Levels 1 and 2, went live in 2015, bringing her teaching and her music to the world beyond her home studio.
It helps that Lisa's Guitar Fundamentals Courses are part of the largest and most highly rated online guitar lesson sites on the Web, GuitarTricks.com.
"GuitarTricks is akin to an online university devoted just to guitar studies. Students subscribe to the site, and then have access to over 11,000 video guitar lessons, taught by a team of professional guitar instructors," McCormick explains.
She says she designed her courses for "beginners and re-beginners. I don't assume the student has any prior experience with guitar, or has a musical background. There are approximately 180 video lessons in each course level, spanning from absolute beginner to solid intermediate-level skills.
"Students can jump in at any point in the course that they choose. They can repeat the lessons as many times as they need, play right along with me, download the videos and sheet music to have as their own."
And there's a 2-week free trial!" she adds, directing interested parties to this signup page.
She describes the "comprehensive" guitar course as "designed to accommodate both absolute beginners and self-taught players who need to brush up on the basics. It is extremely thorough, attempting to leave no question unanswered, no player left scratching their head or not succeeding at the learning task."
In an early review of the course on Guitar Chalk, a Website that bills itself as an educational resource for the modern guitar player and teacher, Bobby Kittleberger writes that McCormick discusses proper technique and best practices "right down to the placement and movement of each finger for making those chord changes. That's a level of detail that's typically found only in personal tutoring and in-person guitar lessons."
An Almost-Accidental Online Teacher
McCormick began teaching guitar lessons on GuitarTricks almost by accident. She was teaching guitar in Brattleboro in one-on-one settings, and some of her students were studying rock 'n' roll improv.
She needed musical tracks for them to play against to challenge and increase their improvisational skills, she says. She went online and found GuitarTricks: "They had play-along tracks there and I used them in my lessons."
One day, as McCormick scrolled to the bottom of the site's page, she saw a solicitation for new teachers.
Although at that point McCormick had logged about 20 years as a guitar instructor; the "careful vetting" process for joining GuitarTricks' roster, as she described it, required her to jump through a lot of hoops and involved a steep learning curve.
"I never touched a video camera in my life. I am not a technology geek," she says, explaining that she knew little about video and computers.
Jumping through the hoops worked. McCormick has been teaching with GuitarTricks for nine years now. CEO Jon Broderick describes her as one of the site's most popular instructors.
"Even my videographer, who doesn't play guitar at all, said to me about playing guitar, 'Well, even I could do that!' just from filming McCormick's lessons, McCormick says.
Although she says teaching guitar one on one in her home studio was "a steadying thing" for the self-employed artist — it allowed her a stable income and "removed the uncertainty of relying solely on live performance income" — she was "completely maxed out" with a full roster of students.
And the waitlist was twice as long as her roster, she says.
GuitarTricks gave her a way to teach many more people. "It was an opportunity to grow as a teacher beyond my home studio," she says.
McCormick's success as an instructor may stem from the way in which she learned to play guitar.
She describes herself as mostly self-taught and attributes her first lessons to her father. "When I was 10 he taught me to play three chords on the guitar. They were the only three he knew. I played 'Blowin' In The Wind'. I holed up in my room after school and pored over the James Taylor songbook."
She later took lessons in Folk, Rock, Jazz, and Classical guitar, and studied music theory in college.
McCormick's skill at teaching guitar may have also come from her non-musical educational experiences. She took her Bachelor of Science in Education at UNH, where she learned to teach students with what she calls "alternative learning styles."
After graduating, McCormick taught at Landmark College, a college for academically promising young adults with learning disabilities, such as dyslexia. "Landmark College had a very extensive training program for teachers teaching to a diversified student body. This instruction paid off: I feel can reach people with all sorts of different learning styles."
"I'm really interested in learning the process of a beginner being passionate" about learning guitar, she says. "I ask myself, How do learners learn guitar? I use my mojo to figure out how each student learns. I tailor my teaching to reach you as an individual," she adds.
In her 20 years of teaching guitar, she says: "I've taught hundreds of people in real time, and I've been asked every question thousands of times. So, in my course, all of the questions I've been asked, I try my best to answer."
"It interests me to communicate new information and skills in a way that people of all different backgrounds, ages, genders, nationalities — can grasp. Some teachers say, Let me show you a scale; now do it like me" she explains.
In contrast, she says, "In my teaching I lead the students on a journey. It's their own curiosity that makes them want to learn, not me dictating to them. My lessons are relaxed, friendly, and clear. They're not confusing. They're encouraging, positive, and supportive of their learning process."
Teaching Philosophy
"My philosophy of teaching is, let's use songs immediately. I don't want to just teach technical skills; I want students to see the association between notes and chords and actual music. If we learn one chord in a lesson, we'll play a song with that one chord," she adds.
"In Guitar Fundamentals, as in my one-on-one teaching, we are playing real music at every juncture. It makes the process of learning a lot of fun."
Even with her online teaching success, McCormick insists on keeping her one-on-one lesson schedule and continues teaching in Brattleboro one day per week.
"I love the personal relationship," she says. "It's something I can miss out on from teaching online: I like having a human being come into my house. It's good for the soul. I get to experience the evolution of them as musicians."
And as for being a guitar instructor with a worldwide reach, McCormick says, "I consider it a blessing."
Anyone is welcome to try Lisa's lessons, plus the entire Guitar Tricks site, for a two week free trial, at this sign-in page.
---