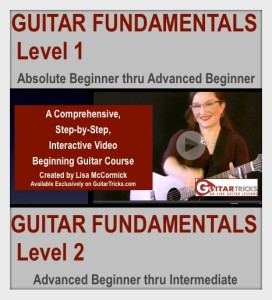 What is 'Guitar Fundamentals'?
It's my baby!
(sorry – couldn't resist)
Well, beyond that, it is a comprehensive, step-by-step interactive guitar course for beginners through intermediates, that I was honored to be asked to create by the web's leading online guitar lesson resource, GuitarTricks. Guitar Fundamentals (a la Lisa) is now GT's main entry point for all beginning and self-taught players. (tens of thousands of them!)
I created this 360-video course just for people like yourself, who are working on getting better at playing guitar (or, just starting out!).
How will Guitar Fundamentals make YOU a much better guitar player?
1. Chase down bad habits (gotcha!)! Guitar Fundamentals starts you at the very beginning, making sure your essential foundation of skills and knowledge on the guitar are spot-on for continuing to grow as a guitar player. We chase down bad habits, and blast them out of your way!
2. Fill in the blanks (huh?)! Chances are there are some essential skills and facts about the guitar that have eluded you over time. But if you KNEW all these things, you could really surge ahead with your playing!
We will cover EVERY essential guitar topic in detail, from proper positioning, playing chords clearly, changing chords on time, strumming, playing songs, reading tablature, playing melodies, major and minor scales, essential (and easy!) music theory, barre chords, to the basics of reading music.
You can't escape becoming a better player with all this under your belt!
3. Connect the Dots (AHA!) Yes, you may know a few major chords and some minor chords, but do you know how those chords work together to make music? Do you know how POWERFUL this connection is? Discover what makes guitar music "tick" by learning the secrets behind the scenes.
4. You Learn at YOUR perfect pace! (ah…) Don't be rushed (and blindsided) by overly ambitious 'teachers'. Don't waste your time on unqualified teachers. Take YOUR time, or, speed on through. Whatever works for you. I am there, 24/7, with encouragement, more info, practice opportunities, and support.
5. Make the BEST of your precious time! You are busy. I am busy. We are all busy. Your guitar-playing time is precious. So why fritter it away scouring YouTube for piecemeal freebie lessons, when you can have it all in one place and really get down to it. "IT" being, actually PLAYING and LEARNING on your guitar.
5. Make the BEST of your precious money! You may not need an expensive new guitar, or an expensive private teacher to become a much better guitar player. Enroll yourself in Guitar Fundamentals (and ALL of GuitarTricks), for $19.95 per month. If, within 60 days, you decide it is not for you, you can get a full refund.
Ready to do this for YOU? (remember, even when you say 'yes', you've got a full 60-days to be absolutely certain – or your money back).
See Lisa's entire catalog of GuitarTricks video lessons here.